Every successful story is derived from an enthusiastic group of individuals who never gave up on their cause. What makes this story all the more significant, is how it helps various communities grow along with them. For instance, an initiative for removing poverty from the society will be a significant one if it not only addresses the issue at hand, but also helps in the implementation of a feasible solution for the same. This makes the person or the community, aware of his/her/their responsibilities towards society. Many times, people think social responsibility is rocket science, but it is not. Quite often, an empathetic mind is all you need to be responsible for someone else's happiness. Over the past few years, many companies have come up with campaigns that tap the socially responsible aspect of a person's mindset. Ultimately, the end vision of these initiatives is to create an economy that helps everyone involved in it, as well as one that protects the environment by giving back multifold. Natural pad-manufacturing companies in India are now trying to explore opportunities in creating a circular economy – a way of life that sources resources from nature while simultaneously giving back in multiple positive ways.
Supporting The Local Economy And Agriculture
A major aspect of giving back to society revolves around the development of its local communities. The local economy in India consists of farmers and small-scale labourers who work day-in and day-out to make ends meet. Supporting them will include initiatives that help reduce their burden and focus on their upliftment in societal activities. Initiatives such as 'Buy One, Give One', focuses on this aspect of the economy. Manufacturing natural pads made from banana fibres helps banana farmers get rid of their agro-waste and make money out of it at the same time. Companies such as Sparkle buy these stems that become useless after the harvest and transform them into sustainable raw material to manufacture natural and biodegradable sanitary pads.
Furthering The Swachh Bharat And 'Make In India' Initiative
Another criterion that makes a collective effort significant is how it helps further the vision and mission of the Government by helping in the implementation of various campaign ideologies. Pad manufacturing companies are in the position of contributing to initiatives such as the 'Make In India' and the 'Swachh Bharat' campaigns in several ways. Natural pads such as Sparkle pads further the vision of the 'Make In India' campaign as they are indigenous, right from the extraction of pulp from the agro-waste, to the environment-friendly packaging of each pad. In addition, the Menstrual Hygiene Alliance of India (MHAI) has stated that India has to account for about 12.3 billion sanitary napkins every year, the majority of which are not biodegradable or compostable. Natural pads will thus help in reducing the non-biodegradable burden on the Earth, as these pads decompose naturally without adding to the toxic waste materials that harm the environment. Another way by which natural pads help cleanliness campaigns such as 'Swachh Bharat' is that they help reduce the overall agro-waste. For example, pads made from banana fibres are manufactured from the pulp extracted from the agro-waste generated from banana farms after the harvest. As this significantly reduces the amount of agro-waste generated by banana farmers, the vision of the 'Swachh Bharat' campaign is unequivocally furthered by the same.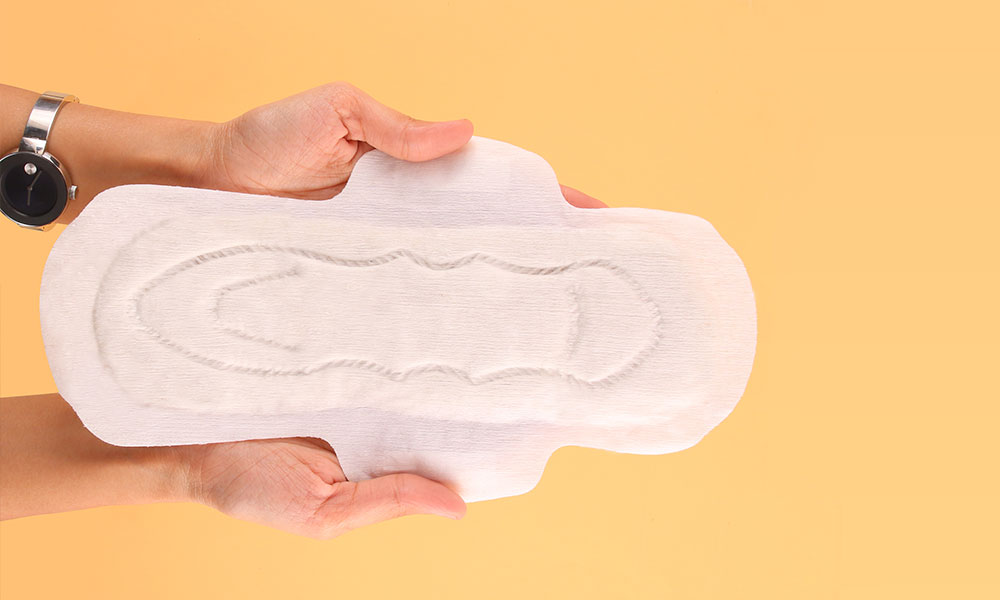 Living A Plastic-Free  Life
Conventional sanitary pads contain significant amount of plastic and synthetic fibres that do not biodegrade for thousands of years. They remain unchanged in the landfill and therefore, continue to add to the accumulation of plastic waste in the environment. Natural pads, on the other hand, do not contain any synthetic components – they do not come with any side effects or hidden dangers. Countries all across the globe are slowly switching to natural products because of this reason. Citizens around the world are slowly gaining more awareness about the ill effects of using plastic, and how harmful it is to one's health and the environment. In addition to that, most of the "premium" sanitary pads sold in India today are low-cost pads imported from countries such as China – these are almost always re-branded and re-marketed under another name. Companies such as Sparkle, focus on curbing such practices and reducing India's dependence on other countries by establishing and supporting a circular economy. This will not only increase the welfare of the country, but also promote a plastic-free lifestyle.
One Step Closer To A Better Tomorrow
The long term vision behind coming up with initiatives that help the environment and the economy, is to enable human beings to live and strive for progress, sustainably. We should recognise the importance of leaving behind a healthy world for future generations, by staying away from toxic materials such as plastic, and other artificially-made substances that degrade the atmosphere. It is always a good idea to choose natural products made with sustainable ingredients. If not for new companies that care deeply about conducting business with a sense of social responsibility instead of just being driven by the desire to maximize profit, the world would have no hope in the coming decades. So, are you ready to vouch for a 'natural-products-only' lifestyle from today?