During menstruation, a common worry for any woman is how to dispose of my used sanitary pads without anyone noticing it. This hustle usually ends with pad waste being dumped in dustbin, flushed in the toilet or being left out in the open.
While doing this, we don't realize the fact that by disposing pad waste irresponsibly, we are poisoning our planet with tons of plastic and harsh petrochemicals. Because most sanitary napkins available in the market use non-compostable, synthetic materials. Even many companies that claim to sell 100% biodegradable and compostable sanitary napkins are just using these buzzwords as marketing gimmick.
So, before we start the discussion on how to dispose of a sanitary pad sustainably, we must understand critical concerns that conventional sanitary pads bring to our lives.
The Real Problem: Surge in Plastic Pollution from Sanitary Napkin Waste
The major issue lies in the composition of conventional pads that contain up to 90% plastic and other petrochemical byproducts which remain unchanged in the landfill for around 600-800 years after disposal.
Currently, only in India, with 1 in 6 women using pads, around 150,000 tons of pad waste is generated per year. If all of India's 355 million women start using pads, it will result in approximately 1,000,000 tons of pad waste annually.
Here is a shocking estimation by Global Health Non-Profit, PATH "over 1 billion non-compostable sanitary pads are making their way into urban sewerage systems, landfills, rural fields and water bodies in India every month."
Sanitary napkins that get dumped in acres of landfills get picked up by birds and animals, which in turn lead to the pollution of land and water. Microscopic plastic particles that reach the ocean get transferred through multiple layers of the food chain, where the final result could even end up on your plate.
To tackle these issues, waste management systems have evolved over the years. However, when it comes to disposal of soiled sanitary napkins, there is no clarity on classification of sanitary pad waste.
The Confusion: Solid Waste vs. Biomedical Waste
According to Indian Bio-Medical Waste Management Rules, "items contaminated with blood and body fluids, including cotton, dressings, soiled plaster casts, linens and bedding, are bio-medical waste and should be incinerated, autoclaved or microwaved to destroy any pathogens."
However, according to the Indian Solid Waste Management (SWM), soiled napkins, diapers, condoms, tampons and blood-soaked cotton, which are household waste, should be disposed of after its segregation into biodegradable and non-biodegradable nature.
Even if you have a backyard composting pit at your home, it is not recommended to compost feminine hygiene products such as pads, tampons, panty-liners or wipes that come in contact with bodily fluids. Because homemade composting systems do not provide an adequate environment or temperature that kill the bacteria and the pathogens.
Most of the industrial compost facilities do not accept sanitary pad wastes too. Even in developed countries like the United States, sanitary pad waste ends up in landfills since the customary disposal system is the solid waste stream.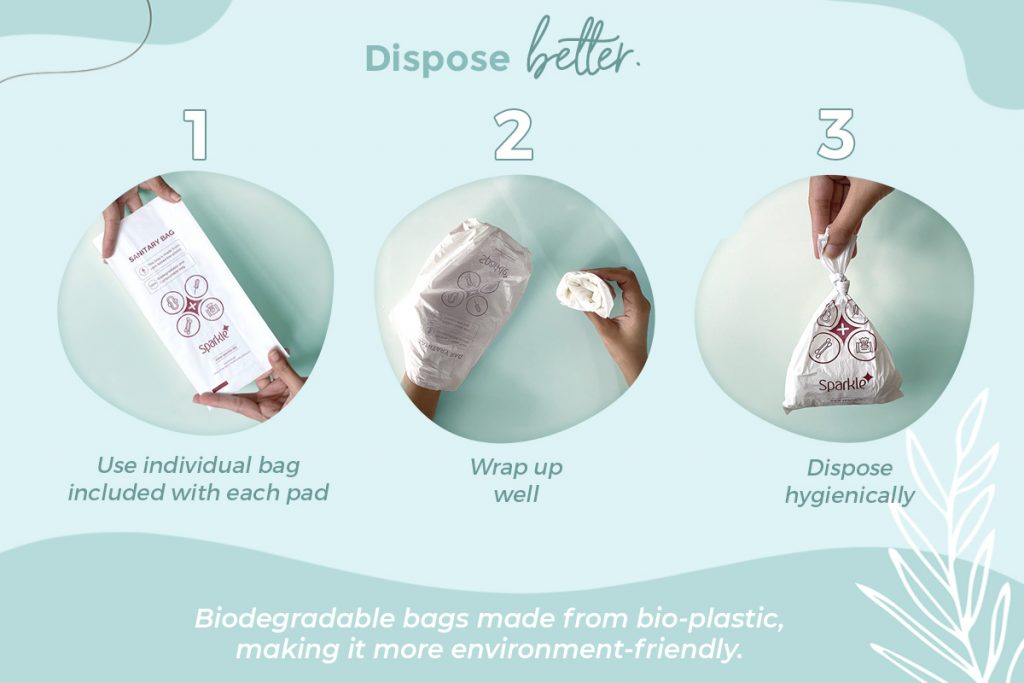 Current Methods Used in India for Soiled Sanitary Pads Disposal
In urban areas, women typically dispose of used sanitary pads in a waste bin, where they eventually end up in a landfill.
In rural areas, women bury them in a pit.
In public areas such as schools, offices or municipal toilets, where women may not have access to waste disposal bins, they flush the used sanitary pad in the toilet or even leave them in the corners.
Since non-biodegradable sanitary pads do not decompose for a long time, they lead to the clogging of toilets, sewerage systems and drains.
Moreover, the social stigma surrounding menstruation and the lack of proper infrastructure for the collection and disposal of sanitary pad waste can lead to serious health and environmental hazards in India.
Recommended Options for Disposal of Different Sanitary Wastes (as per MHM Guidelines 2015)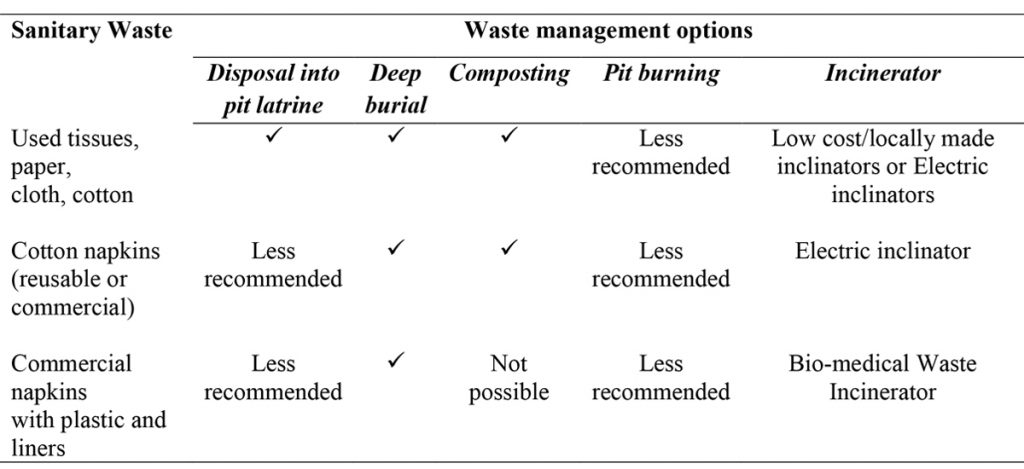 Source: Indian Menstrual Hygiene Management National Guidelines
Incinerating conventional pads that contain up to 90% plastic is not the ideal method to dispose of a sanitary pad since it releases harmful gases into the environment. Disposing of conventional plastic pads in landfills is not ideal either as they remain unchanged for around 600-800 years after disposal.
The Smart Option: Switch to Natural and Sustainable Sanitary Pads
Until we can collectively find a better solution to this massive environmental and health obstacle caused by sanitary pad waste disposal, you can take it upon yourself to reduce plastic pollution caused by conventional pads and switch to sustainable products instead. (But ensure you are taking an informed decision and buying genuine products that mention their complete list of ingredients.)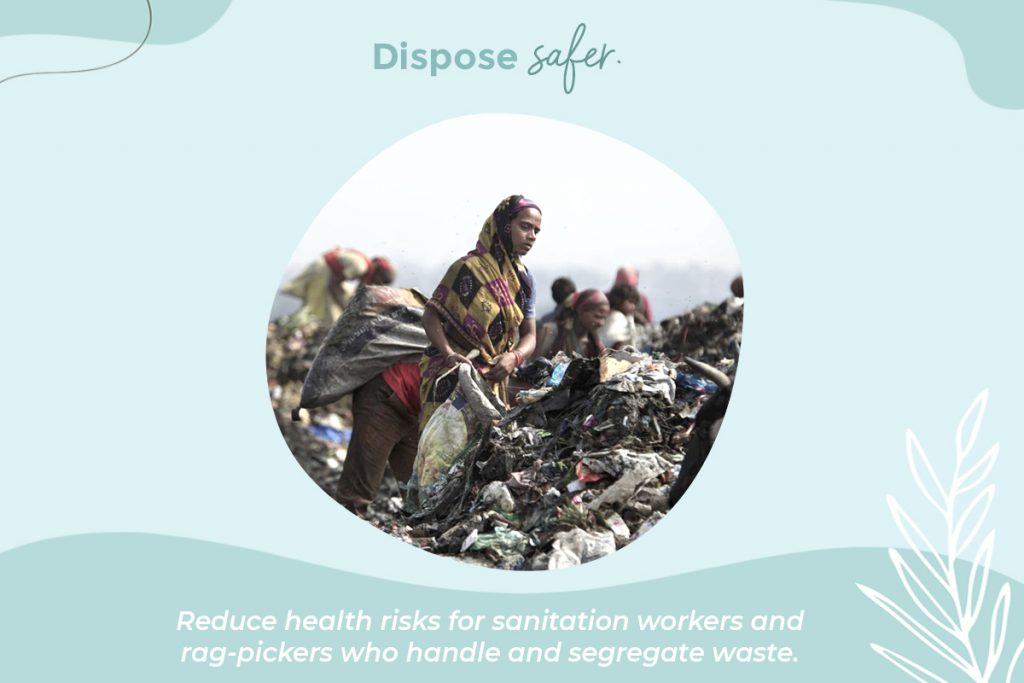 How Sparkle is Addressing the Pad Waste Challenge
We started Sparkle with an objective to provide sustainable, affordable and effective period products to everyone. We wanted to provide a genuine, reliable alternative. But we faced some fundamental challenges when we were developing the initial prototype.
To get Sparkle sanitary pads certified as biodegradable and compostable products, we contacted globally reputed agencies such as 'Biodegradable Products Institute' that provides certification services for compostable products. We received the following reply from the 'Biodegradable Products Institute':
"We do not certify sanitary pads because compost sites will not accept them. We only certify items that are acceptable at compost facilities."
This reply made us re-examine the fundamental problem we were trying to solve, which was developing a compostable product which may never end up at an industrial compost facility.
That's when we shifted our focus to developing a sanitary pad with sustainable, bio-based and natural ingredients that could easily biodegrade after disposal.
We realised that rather than making a sanitary pad that could claim the tag of 100% biodegradable or compostable, it would be better to focus on using natural ingredients that could break down quickly after its disposal, along with regular garbage.
We manufactured a product that's made from plant-based ingredients like banana fibre, bamboo fibre, and cornstarch.
No plastic. No harsh chemicals and no toxic fragrances. Sparkle sanitary pads can break down much faster than conventional plastic pads, even in the landfill.
Importantly, each pack of Sparkle pads comes with individual travel friendly bags for hassle free disposal.
Conclusion
This article was an attempt to help you transform yourself into a smart consumer of sustainable products. Because it's in your hand: what impact you want to have on your surroundings. By making a wise decision, you can make a positive difference in the environment and in the society at large.
Begin your sustainable journey today.
Welcome to Sparkle!