The painful cramps, discomfort from bloating and irritating mood swings make every woman dread her periods. You may have grown to accept these symptoms as part and parcel of your monthly cycle, but why deal with these issues when you can just biohack them?
Biohacking your period may sound like a cool word from a sci-fi movie, but it actually just stands for the small changes in lifestyle and diet that help improve your health and change your body. The food you eat can also play an important role in changing the way you feel during different stages of your period. 
Here's how you should adjust your routine and food habits to help you ease into a more comfortable menstrual cycle.
Menstruation Phase
1st to 7th day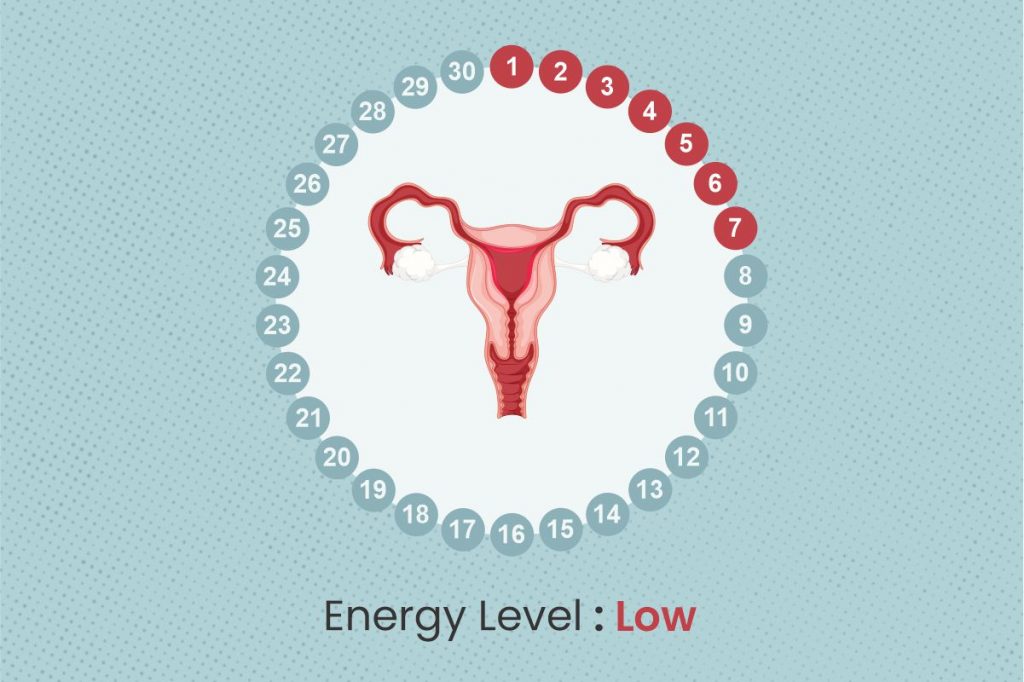 As you bleed during your periods, you often feel low because of a large drop in hormone production. While you may be tempted to dive into a packet of chips or unwrap that chocolate bar you have hidden away, it's necessary that you stick to a healthy diet to feel better.
Eating food that is rich in iron and minerals like lentils, beets and dark leafy greens will help with blood production. To help the body absorb iron, you should also eat citrus fruits that are rich in Vitamin C. You may not feel very active during this time, but taking a light walk or stretching will do your body good and even help relieve those pesky cramps.
Pre-ovulation Phase
8th to 14th day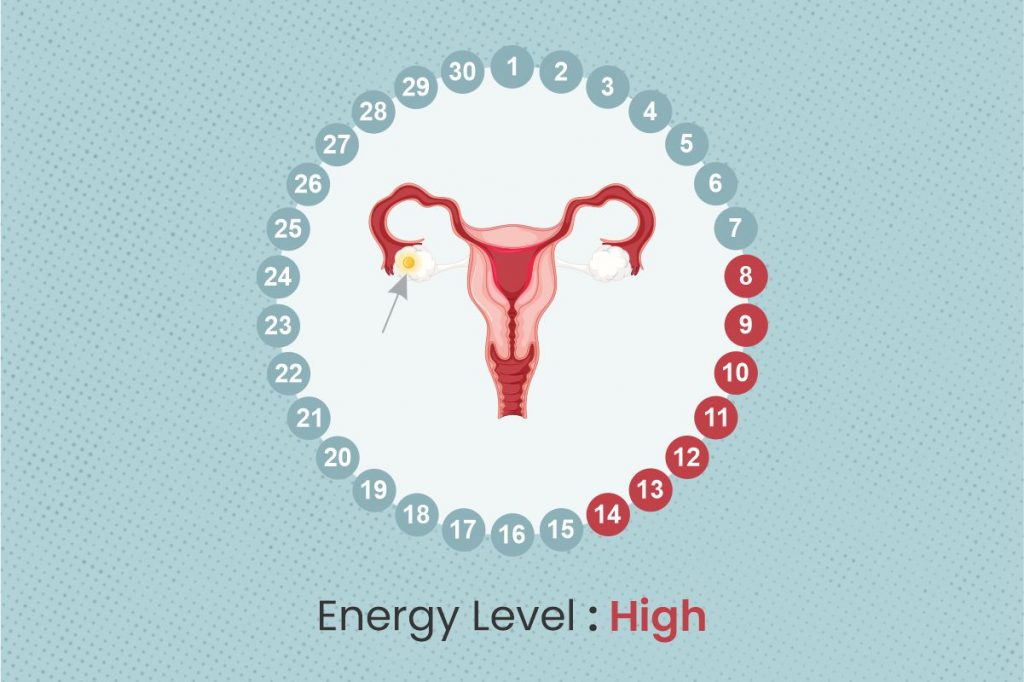 Just after menstruation, your estrogen levels start to pick up along with your energy levels. This means that it's a good time for you to do some cardio exercise and resistance training. Your diet should be a mixture of green leafy vegetables, salads, nuts and dry fruits. Food rich in Vitamin E like eggs, fish, and whole grains will help with follicular development. Looking after your gut health is also important, so make sure to consume probiotics and prebiotics, including fermented food like yoghurt, curd and sauerkraut.
Ovulation Phase
14th to 20th day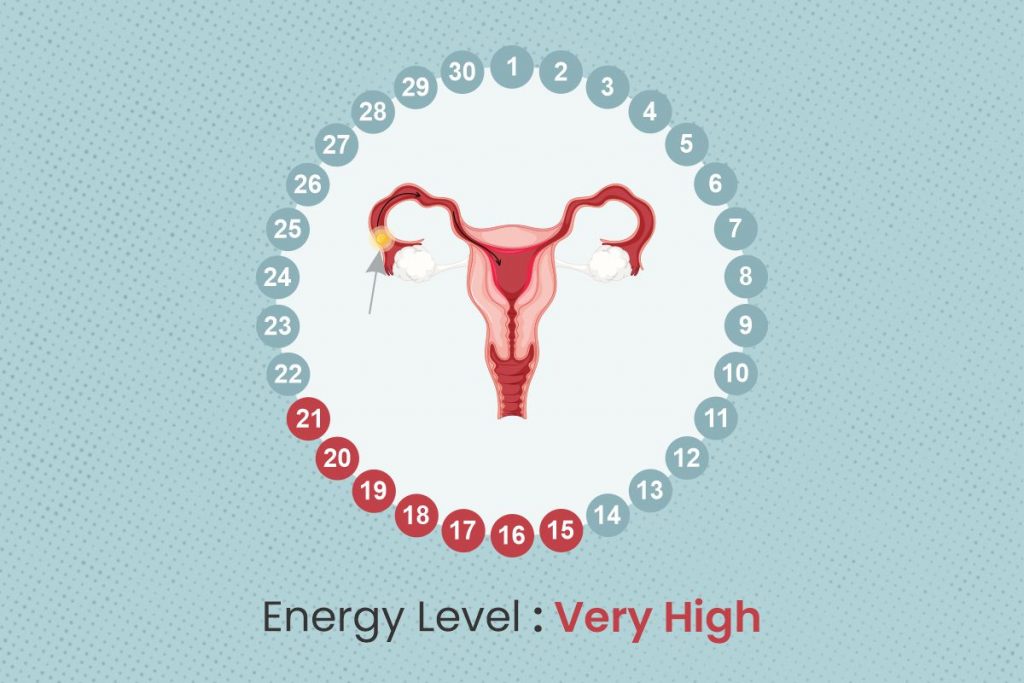 This is the best time to work up a sweat with some intense cardio and weight training. The estrogen level in your body will be at its peak, leading to a boost in energy and an alert mind. Eat a balanced diet with wheat germ, figs, eggs, and other food rich in vitamin B and zinc, to help with progesterone production.
Premenstrual Phase
21st to 28th day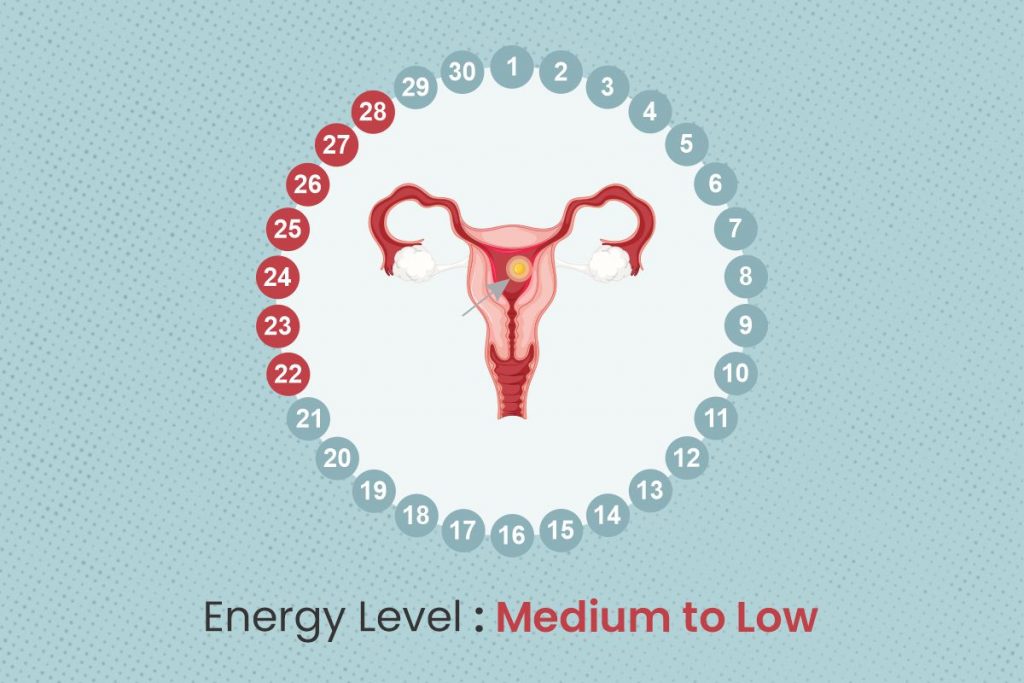 You may notice a fall in energy levels at this stage which coincides with a slow decline in hormone production. At this point, you can give in to some of your cravings and consume complex carbs like whole-grain bread and pasta, which can help improve your mood and increase your energy levels. But don't get too carried away! Keep eating healthy food rich in vitamin B as well as magnesium to support your internal system. In addition to this, you can also have warm and light food like soups, hot tea and broths, to alleviate any discomfort you may feel in your stomach or pelvic area.
While it is essential to eat healthy food, it's also just as important to avoid addictive and unhealthy products like alcohol, coffee, soda, tobacco and food containing trans fat. It might seem like a difficult challenge to alter your food habits and lifestyle, but the results will be worth all the effort and restraint. All these healthy practices for biohacking your period will not only help make your periods more bearable, but also improve your overall health and quality of life.